About Bronsons
We clean, polish and shine a variety of components for a wide-range of customers.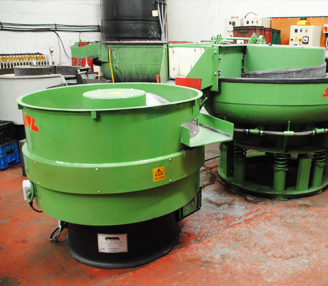 Bronsons has been trading as a shot blasting company for over 10 years, originally working with 2 tumble blast machines in 2 small Units on The Old Foundry estate Bilston. Since being purchased by the Norcrest Group 4 years ago the company has moved to its current location and benefited from considerable capital investment.
Our shot blasting range has been extended by the installation of a steel belt machine which is ideal for heavier parts having a maximum parts load weight of 250kg. The shot blasting process helps to strengthen the surface of components such as springs which can improve their working life. Shot blasting is also extremely well suited to the removal of split line flash on cast parts and surface preparation prior to the application of a new protective finishes.
New to the company is our vibro deburring section which consists of 4 vibro bowls and ancillary equipment. Post process parts will be clean and dry but can be oiled, weigh counted and bagged/boxed, to customers specific requirements. The vibro deburring process can be used to produce specific radii on components akin to conventional machining which will reduce the occurrence of stress raisers or we can just  remove a sharp edge making the parts kind to hand. We can degrease and clean a variety of shapes and sizes of parts which some other processes cannot. It is a particularly useful process for cleaning components post heat treatment to remove carbon scaling.

Having built up a well-equipped metal finishing company we aim to provide a first class service, there are plans for further investment to keep up with our customer demand and enable further growth whilst still offering a first class service at competitive prices.